Van Sales Units or Program Van Sales for move sale is a mobile POS application and Cloud Computing that will make your business easier.
The program used van sales unit is an ideal application for the units. A salesman in charge of sales units, many point to record sales and sales of various auto shows.
Generally, program units Will work in the Internet 100%, causing limitations or weaknesses. In the case in point streak Internet signal or Internet is slow, it will cause a problem can not be billed in a timely manner.
But the work of some units is characterized Local has the advantage of running fast. And can sell products without the need for constant Internet as Web Application forms, but there is a limit to send data to headquarters. Relies on the import export which is not the case in many areas, and may have caused the crash.
Program Units A newly designed program Which is based on a combination of the Local Cloud Computing by the time of the sale, which will run Local storage Client Server, which is more secure. Compared to File Base but to send data back and forth between headquarters and the field, the program will be run with data transmission function Cloud Computing, you just click a button. You can send more data processing and reporting via the web.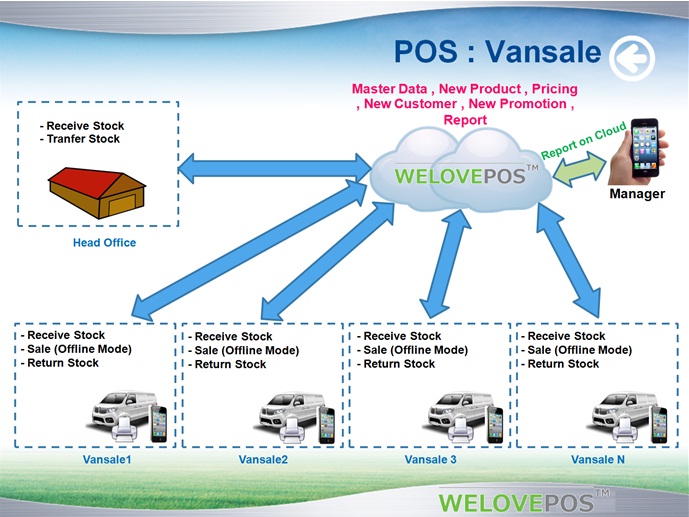 The design program is making Cloud Computing work in a quick and accurate. Especially the case with many branches or stores a lot of it.
Can add products, prices, promotions on Cloud Sync and data to all fields simultaneously. That way, Branch can not fix prices Or add your own Data in each branch Centrally determined only And send sales reports to the public is accurate and easy to Consolidate sales outlets immediately.
Program Units In general, the time required to send data to headquarters to Export-Import File, which is a mistake. And time to verify its accuracy.
But for car units Getting information from headquarters to the press Sync not only need to select File, so any more convenient.
The information is sent to the sales headquarters, just press Upload once information is sent to the Server in the Cloud, which can be retrieved promptly sold all the time.
Advantages of the car vans sale
While selling The program does not require the internet all the time, but can send data over the Internet immediately in times of need. In the event that there is a connection. Internet time You can send data over the Internet at any time as well. Online Real Time Virtual work as well.
Function for sending information over the Internet and Cloud Computing, in addition to the sales data to head office. Can also be used to transmit sensitive information. Was determined from headquarters to the field as well as adding a new database product, its price changes. , Adding promotions. Or even Update client list. In the event of an increase in new customer database. To get discounts or special rates, etc. This will save time in the Update database in each field and add the database solution might be a typo. Each branch of the database mismatch. This will result in processing sales outlets. Including the protection of fixed data fields such as corrections regarding prices and discounts. The headquarters are unknown.
Feature Of POS Vansale System
Supports a mix of traditional and Local Cloud Computing.
The product can be sold as usual Without the Internet
 Connect With Barcode Reader and Receipt Slip
Support for sale on Mobile Device
Information can be sent to each branch office. An overview of the company and reports with ease.
Support operation for Online and Offline
Support for connect to register system  (* Option)
Support to Accountant system (* Option)
Support to set price both regular price and member price
Report to Daily Sales by Units
Report to Sale Order by Category product
Report movement of goods or service and Support to check stock real time
Report to product best seller ranking
Program on Clound System can be export report on File Excel