Program Medical clinic management  is design to Web Application combine with Cloud Computing, which based on usage.
          System of sale product or treatment is run on Local, it can sale immediately without use internet all time. This system is suitable for booth for sale or Promotion fair.
          System of service and cutting treatment is use Web application because it need to cutting and recognize outstanding balance all time and can cutting treatment all branches in same time.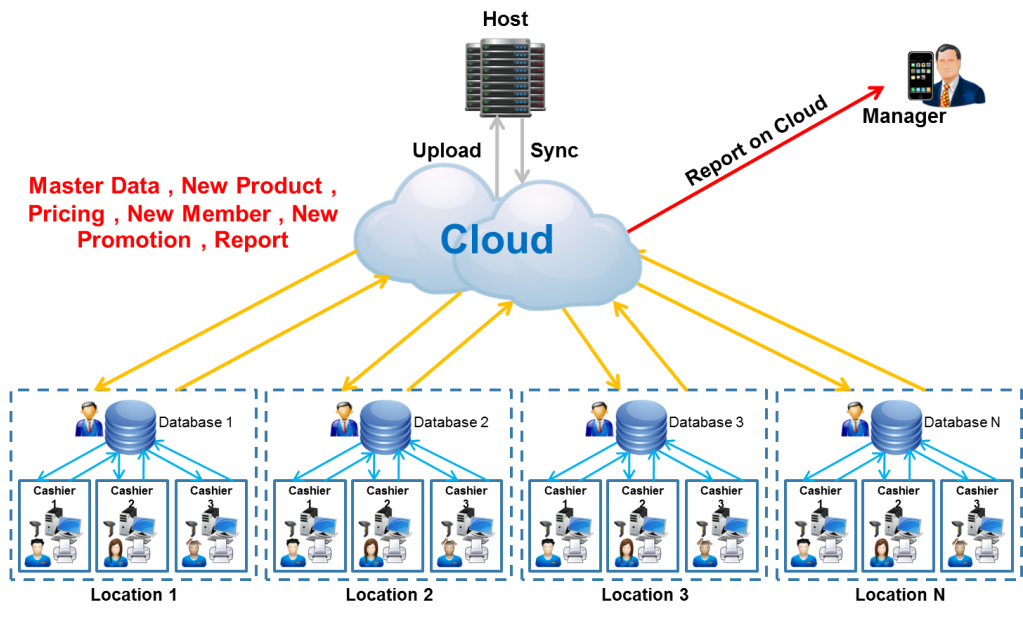 Program Medical clinic management is designed to be used in Medical and Cosmetic Clinic directly.  This program is modern and design in Cloud Computing Model to accommodate the many branches.  Be able to sell treatment, service, check treatment balance and views any report via a smart phone and tablet all time.
Program Medical Clinic Management Include 7 Main System.
Master Data System
          Admin staff be able to set master data on cloud and sync data to all branch such as treatment data, Product data, member data, Promotion, Therapist data, sale data etc.
Some of our customers have member over 30,000 persons. The program is available on every branch. After they register, another branch can sync the same data immediately, no need to wait for the end of day.
          Or case Therapist transfer one branch to another branch can be set to move from Head office. Then new branch just sync data, The new list therapist will appear in field immediately.
          Highlight of the system is Head office be able to set any data and each branch be able to sync data soon without using the Import Export File, with might be confusing. This program makes it easy to control price, promotion and update data each branch.
          Another highlight of the system is support fingerprint (Optional). The customers not required to carry member card. They can use fingerprint to show their treatment. Fingerprint system is an optional, this program support scan barcode member card or search customers data by name or mobile phone.
Moreover, system also support to transfer treatment to another person.
 Sale Order System
          The program support multi-type of payment such as cash, credit card, deposit and gift card. In case credit card, the program support use many card in 1 bill or use credit card and cash in 1 bill same.
          The system automatic cut stock and auto upload treatment or course to cloud. It can set promotion in each month, each branch and support multi-format of promotion such as buy A get A, buy A get B, buy 5 get 2 or buy A 5 pieces get discount B 80 %.
          The system easy to management product, program show remain stock real time at screen when user take order. It also be able to set minimum stock, when product reaches to minimum stock, the program will show number of stock in red character.
Flow Sale order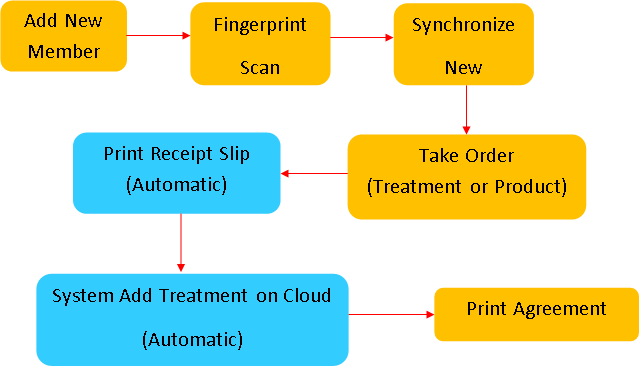 Service System
           The system can check treatment balance all time (Online Real Time) , support print service form, indentify therapist, nurse and doctor to service treatment for calculate commission and also print service slip to show treatment balance.
           The system be able to book next appointment and program will show on schedule each branch report booking. Staff can be select BOM (Bill of material) or formula in each treatment and raw material will be cut stock auto.
Flow Service system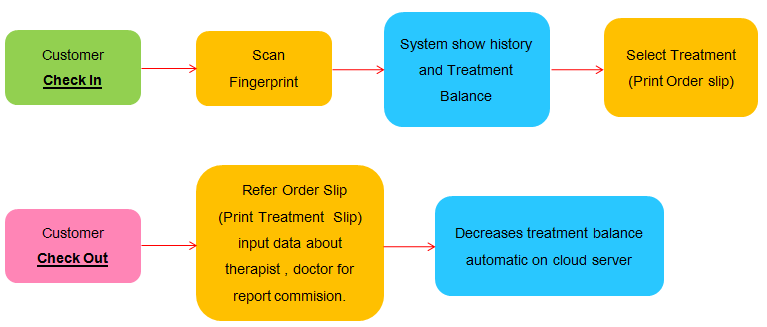 Head Office can see amount customers in each branch all time on cloud system.
Inventory Control System
          Admin staff can set BOM (Bill of Material) and sub BOM in each treatment and when the customers use service, supply will be decreases automatic.
          Head office be able to check stock online when branch uploaded data, no need to wait for the end of day and transfer stock from DC to branch (Optional).
          The program can convert unit of product such as Botox 1 bottle is 100 U.
Marketing system
          The system can key questionnaire and view marketing analysis report, use questionnaire to analyze for new promotion such as
          What the most problem customers want to treat?
          How many new customers in this month?
          The system can set difference promotion for each branch or set by group of customer. It can set quota of free treatment ( Trial, Complement, FOC) in each month, each branch
          It can create voucher (cash voucher and treatment voucher) and print voucher from this program for distribution in event.
Analysis Report
          With Cloud Computing system, we can upload circulation and sync new product and new promotion any time.
          The system have many report such as Sale list report, Consolidate sale volume by branch, Top product raking and etc.
Security System
          The program have flexible system can specify privileges 4 levels as Administrator, Top, Manager and Operator.
          Some step can be required to enter password, such as void bill, void document or discount product. Some menu is show in Head office only, each branch can't edit data in this menu and view only.